Portugal - The land by the ocean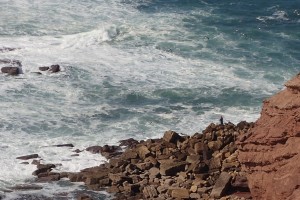 Thanks to its approximately 943 km of coastline, Portugal will be forever connected to the Atlantic Ocean. The many, often unspoiled beaches in combination with the mild climate of mild winters and warm summers make the country the ideal place for sun-seekers looking for peace. The sea has heavily influenced the country's history and Portuguese culture. The 15th century discovery voyages not only provided the country with the tremendous wealth of beautiful monasteries and castles, exotic communities also found their way into gastronomy and culture. From the use of exotic spices like coriander and piri-piri, to influences by the Moors Guitarra Portugesa beautiful painted Azulejos- tiles to protect the houses against the salty wind: the sea and the voyages of discovery can be felt everywhere.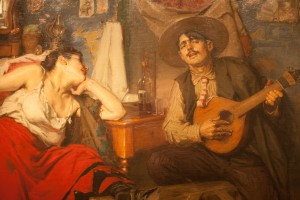 People who were and are so often away from home become naturally melancholic. Saudade is therefore the untranslatable word that characterizes the Portuguese culture. It not only describes a longing for the past, a loss or a great desire, but also the joy of experiencing it. Saudade is not a negative feeling like melancholy can be, but a hopeful and warm emotion that expresses commitment. It is a feeling that obviously plays the leading role in Fado, the poetic Portuguese national anthem that originated in the poor neighborhoods of Lisbon. Even as a foreigner it is not difficult to experience saudade yourself when you visit Portugal. The country still stands proudly with a foot in the past, with its old trams, historic villages and proudly maintained traditions. One such tradition is great hospitality. It may be difficult as an outsider to penetrate deeply into the Portuguese, but they will always welcome you with kindness and helpfulness. A bom dia is almost automatically addressed to a complete stranger, a small conversation is quickly started and quickly grows into a long chat with a delicious Brazil bica (a strong, small coffee).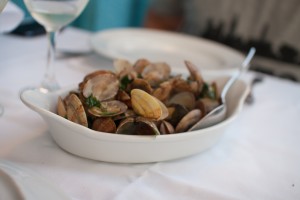 That hospitality extends to the Portuguese kitchen. No one is allowed to leave a Portuguese table hungry, and the average portion is calculated on parts. Of course, the Portuguese dishes are also connected to the sea. Fresh fish, preferably sardines, straight from the coal grill is on just about every menu, and is usually served as a whole. Unless you order one of the hundreds of bacalhau recipes, of course. The dried and salted fish is processed in many tasteful ways, from a delicious bacalhau à brás (with deepfried potatoes, onion and eggs) to crispy bolinhos de bacalhau Also surf and turf dishes are quite common. The delicious Porco Alentejana for instance combines pork with clams.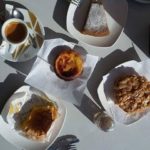 After your meal, don't forget to leave room for a delicious, high-calorie dessert! Did you know that every Portuguese dessert recipe starts with "take 12 eggs and 500 grams of sugar"? No? Definitely browse through some cooking books. It is not that far from the truth!